When you're at a loss for words, I help you find them.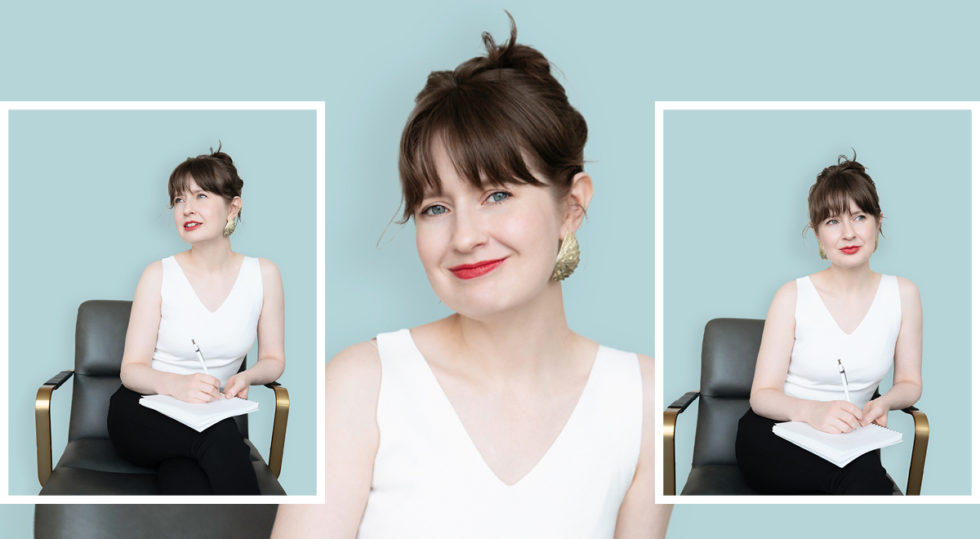 When you're at a loss for words,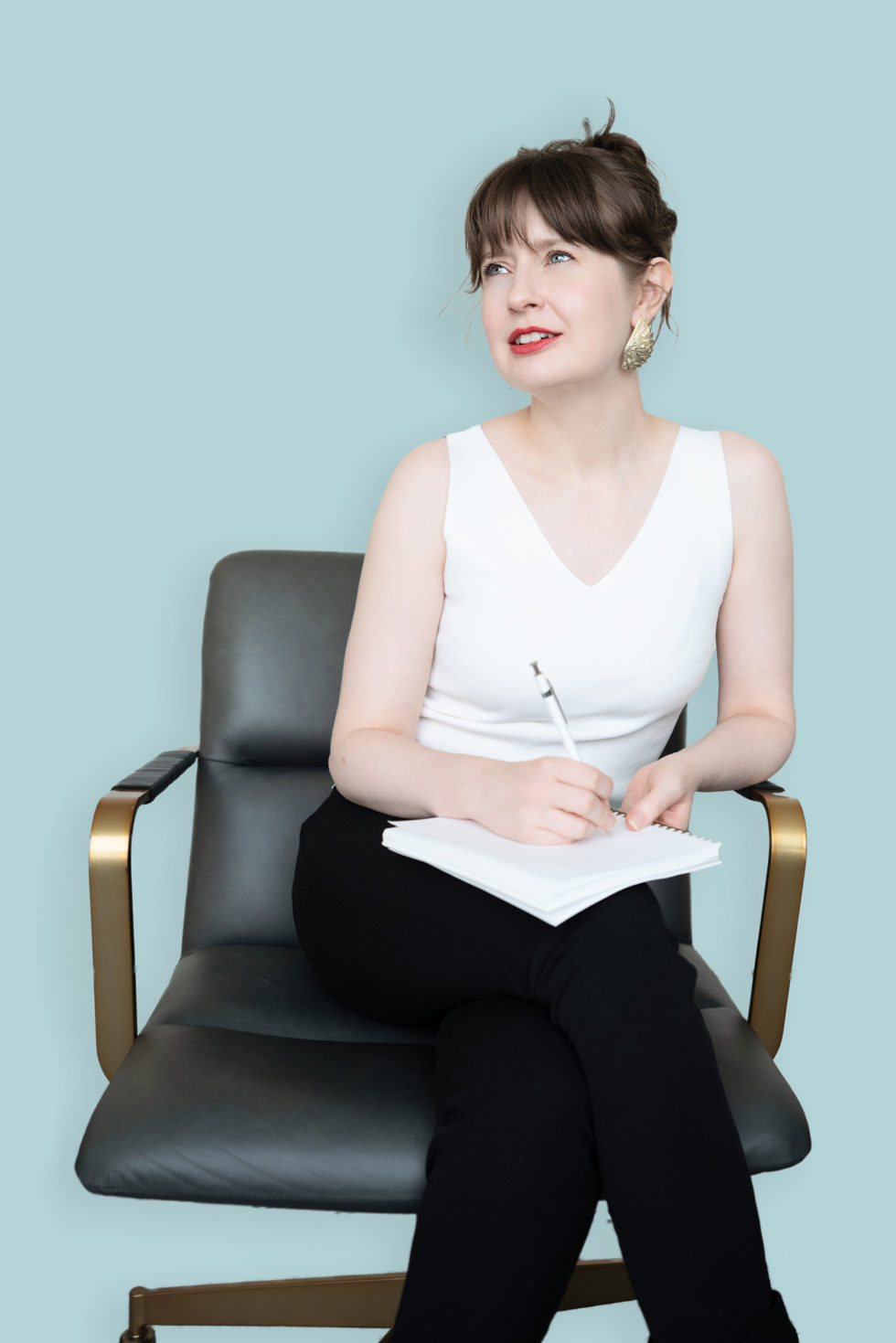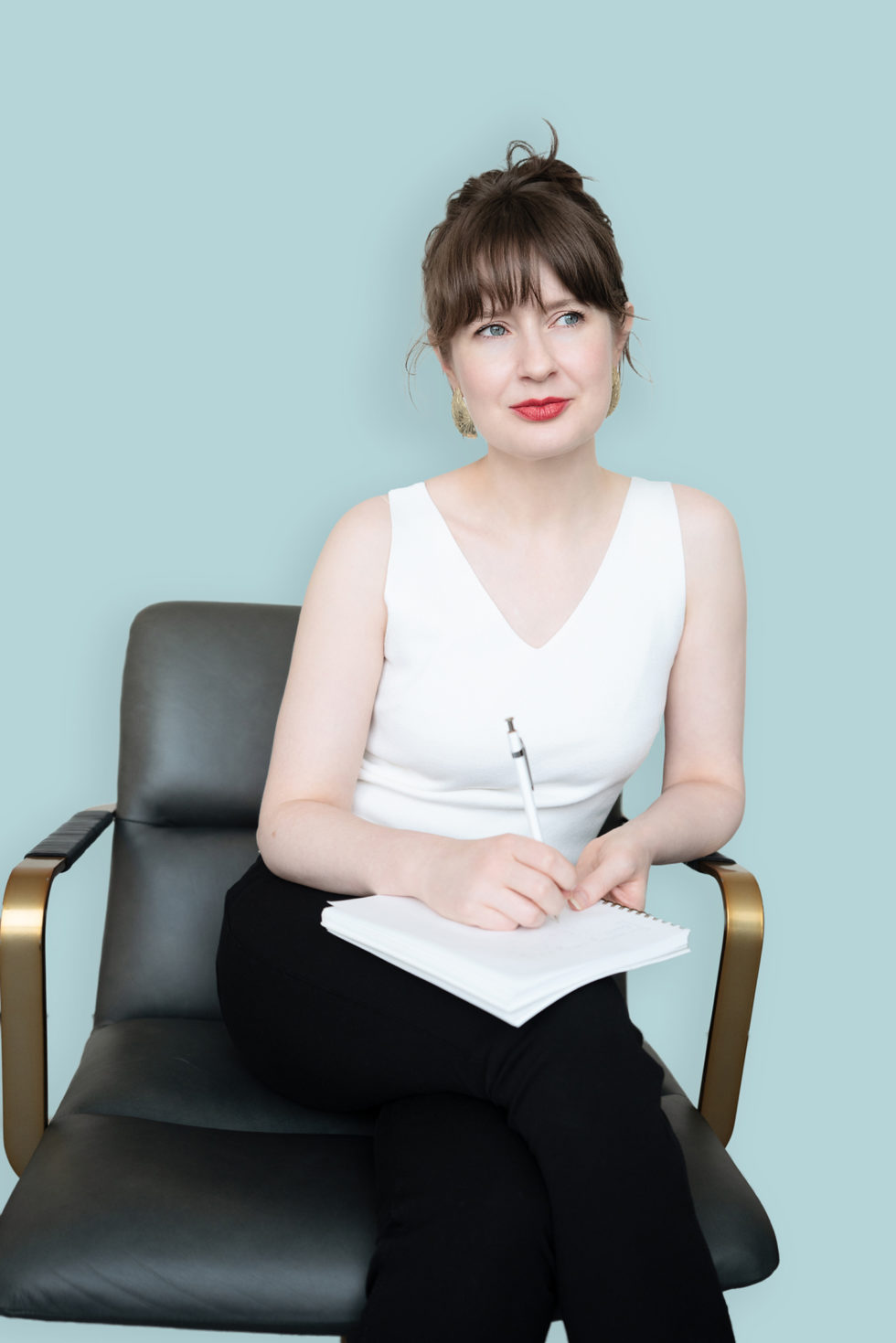 let's get to know each other
If we were in
a job interview

, I might tell you about …
What I do
I'm a writer, editor, and creative consultant—which basically means I'm the person you want to work with if you want to make something—a business, a website, a book, a blog, a content calendar, a career as a writer. I've even been known to direct the production of handmade sweaters (yes, I'm a knitter, and sometimes I teach other people how to knit, too, but I do that for free).
You might come to me for things like:
Copy for your business that seems to magically create customers out of thin air who say things like, "Please, take my money." (This is the #1 thing people come to me for, because who doesn't want copy that sounds like them and also multiplies their revenue? Um … no one.)
A brand-new or upgraded website that's

so damn pretty and fast and designed to keep people reading

and

buying that some of your visitors will simply never leave.

A clear action plan for the creative side of your business (basically, everything your customers see), so you—and your profits—can operate at your highest level.
You might also really dig my email—which is a cocktail of one part copy tips and two parts major oversharing.
My credo
I consider elements of my work to be political. Small businesses strengthen local economies and communities. A lot of small business owners also happen to be womxn—and I have a deep and fundamental belief not only in redistributing wealth from the few to the many, but in making a whole lot of womxn rich.
We need more womxn (cis, trans, nonbinary)—and especially BIPOC womxn—in positions of power. It's one of the most effective ways to affect positive change.
Sometimes power comes from higher office. Sometimes it comes from wealth. I can at least help with the latter.
I work primarily with womxn and/or LGBTQIA+ individuals, but I'm happy to collaborate with any entrepreneur or business in support of gender equality, social justice, anti-racism, and Black Lives Matter.
Freebies & offerings
Want all of my freebies, stories, and copy advice, plus discounts on paid products? Get my email. I'll treat you like royalty. 
Prefer an itemized list? I feel you. 
If you're an entrepreneur, content creator, author, or anyone else who wants to write better copy, grab my 7 Secrets to Killer Copy. It'll get you writing copy that sells and sounds like you—and even if you're not selling anything, it'll still make your prose more engaging, more relatable, and more fun to write in the first damn place.
If you've always struggled with creating a writing habit, head on over to one of my favorite blog posts: The 3 magic tricks that helped me break writer's block (and finally start a daily writing habit). You don't even need to enter your email for that one. It's my gift to you. 
If you own a business or personal brand and you want to up your copywriting game, my mini-course One-Hour Homepage is the training for you. While it's structured to help you write a killer, high-converting homepage in record time, it has copy tips that will help you inject personality and persuasion into everything that flows through your fingertips and onto the page.
If we were on
a date

, I might get into …
How much I like school
My master's degree is in science and health journalism from Columbia University, but I'd already been in the industry for about a decade when I started my program. (I'd worked as the editor-in-chief of an alt-weekly and then freelanced full-time for a few years—more on that further down the page, if you're interested.)
After grad school, I worked as a senior editor at the Columbia Journalism Review, which kept me on campus even longer.
Fun fact: I wrote my master's thesis on coffee. So if you ever want to hear about caffeine half-lives or the punishment in 16th-century Turkey for being caught drinking coffee (hint: It involved bludgeoning and being sewn into a sack), just ask. 😉
My bachelor's is in human development and culture—a degree I was lucky enough to get to design myself and which I totally loved—from the University of New Mexico.
Another fun fact: A paper I wrote for one of my women's studies classes ended up being used in following semesters as course curriculum. It sounds like I'm bragging, and maybe I am a little, but I've always been proud of that.
Where I grew up
I have two hometowns: Boulder, Colorado, where I lived until I was 14, and Albuquerque, New Mexico, where I lived until I was 29.
Boulder is where I was raised on tall tales, learned (almost) how to skateboard, and thought I'd become a millionaire at the age of 12.
Albuquerque is where I found independence, learned how to put my socks on, had one of the worst damn nights of my life, and then as a direct result of that night met one of my life's greatest joys.
These days, I'm rooted in Brooklyn, New York, where I've been since 2012 (and yes, now you can calculate my age, should you be intrigued by such things). A lot's happened here.
It's where I developed a deep love for peacocks, really struck out on my own, wrote my first piece that went viral, got laid off, started a business, and got through a global pandemic. 
I love the hell out of all of my cities.
Stuff I like
Nearly all of my interests are united by one common denominator: I really like to make stuff.
I like knitting (mostly sweaters these days), and gardening (anything), and baking (cake might be my favorite), and painting (watercolor and gouache), and drawing (charcoal and graphite).
I'm huge on games. Ask me if I want to play a board game and I'll point to the stack of them in my apartment taller than I am and ask, "which one?" And if you think that's a lot of games, then I'll point to my jigsaw puzzle collection, which is even taller.
I got really into strength training in 2020 and now I have my own home barbell and free weights and everything. I'm also big on Pilates and cycling and occasionally yoga. Few things are better than a great hike.
Oh, and I'd say reading, but that's kind of a given, right? I mean, I'm a writer. A writer who doesn't read is like a chef who doesn't eat. Doesn't really make any sense (also, you wouldn't survive long).
Not all of my hobbies are virtuous. I'm a born TV binger. The Office and RuPaul's Drag Race reign on high.
If we were on
a talk show

, I might share…
how I got here
And by "here," I mean this website—my business.
This whole thing started as a side project. Not a "side hustle," since there was absolutely no money involved. Just a project.
I missed writing my own stuff—as opposed to editing other people's work at my magazine job—so I started sending weekly letters to subscribers. They usually took the form of personal essays, and I wrote about whatever the hell was on my mind—gardening, a mattress, my astronaut costume.
I chose the format solely to motivate myself. I figured if I told people I'd send something every week, I'd feel obligated to actually do it. (It worked.) 
I figured the only people who'd sign up for such a thing might be family members and a handful of friends, but not long after I started sending those letters, one of them went viral. (Hilariously, I've since migrated my site onto a new platform, and all of my fun sharing and like counts were lost to the ether. Alas.)
Suddenly I had half a million people reading my letters and a whole lot of subscribers. It was pretty good motivation to keep going.
Some of those subscribers have become almost like penpals in the years since. They're amazing. (If you're one of them—thanks for hanging around and sharing pieces of your own life. I'm so damn grateful.)
Their loyalty is one of the reasons I felt confident enough to eventually start my own copywriting and consulting business. I had their support, and that meant I had to be doing something right.
I still send those letters—the content has just evolved. Sometimes they're purely personal, but I also tell stories that relate directly to copy and biz advice, and I recently started including weekly writing prompts (they're a big hit).
If you want 'em, you can get 'em right here.
why I (kind of) left journalism
First of all, I'm a believer that once you're a journalist, you're always a journalist. So while I may no longer work at a media publication, I still sometimes use that title to describe myself.
I think after 15 years, I earned it.
What brought me to journalism in the first place was a love of writing, as well as the sense that I was helping to give a voice to people and communities who weren't often asked for theirs.
That was in the early 2000s, working at an alt-weekly in Albuquerque, New Mexico, called the Alibi. Everyone in the city read that paper. We did some damn good reporting and had an awesome time doing it.
Sometimes as you work your way up the ladder in journalism (or any field, probably), you trade that feeling of making an impact at a local level for prestige.
At first, it's exciting, seeing your name on a national stage. But eventually it can feel like you're telling the same freaking story over and over again, and it's harder to see what good you're doing.
Usually, that's when it's time to do something else.
Also, sometimes that's when the lay-off plague that's been infecting newsrooms since the early 2000s finally gets you, and you have to choose whether to keep doing the same thing somewhere else, or maybe try something new.
I love working with small business owners and companies and organizations I believe in because it's another, and arguably more powerful, way to shape society for the better. (Read more about that here.)
crazy stories
I once helped put out a fire at my neighbors' house in the middle of the night.
I was in college, living by myself in a little house in Albuquerque. One night, I was woken up around 2 a.m. by people shouting outside.
I went to a window to see what was causing the commotion—and probably also to groggily sneer in the direction of the culprits—pulled back the curtain, and stared for a moment at the wall of orange flames snaking up the side of my neighbors' house, just a few feet from my own.
Then I grabbed my phone, dialed 911, and ran outside.
True story: No one ever picked up. The line kept ringing and ringing. So I ran across the street to another house, banged on the door, pointed out the flames to the disheveled man who answered, and said, "Call 911."
When I turned back around, I saw that someone had the sense to start trying to knock back the fire with the neighbors' garden hose—turns out, that someone was a random guy who happened to be walking home from a bar at just the right time.
I grabbed my garden hose and joined him, and together, we quelled the flames.
Someone must have finally gotten through to 911, because a firetruck did eventually come barreling down the road (actually, I had to flag it down, but that's neither here nor there).
By the time it arrived, the fire had been reduced to a few wisps of smoke, and the firemen were able to go inside the house to make sure it was structurally sound.
Also, one time I put a guy behind bars. He deserved it. But that's a story for another day.
Looking for a proper bio? Here's one in third person. Yeah, it's a little awkward, but at least this way I can brag without feeling all weird about it.
Christie Chisholm has been a professional writer for nearly 17 years and has won some big, fancy awards for her work. 
After graduating from the University of New Mexico with a bachelor's in human development and culture—a degree she invented herself—for a brief time, she thought she was going to be an architect, and even started a master's degree in architecture at UNM. 
It didn't take long, though, for her to realize that wasn't going to work for her, and so one week into her program she left and got an internship at Albuquerque's premier alt-weekly, the Alibi. That was still when alt-weeklies ruled the subversive journalism school.
Six months later, she was hired as the paper's staff writer and copyeditor, and six months after that, she was promoted to managing editor and news editor.  
In 2007, she became the Alibi's first female editor-in-chief, as well as its youngest to date at the age of 25.
When Christie left the paper in 2009, she spent a few years freelancing full-time—writing articles, editing books, and working with small business owners on their marketing materials, using words to help them bring in bank.
In 2012, Christie moved to New York City to attend Columbia University's Graduate School of Journalism, where she earned a Master of Arts in science and health journalism.
After receiving her master's degree, she worked as senior editor of the Columbia Journalism Review, where she helped oversee major redesigns of both the print and digital sides of the magazine and as a result saw readership nearly double. One of the issues she project managed and edited was even a National Magazine Award finalist (kind of a big deal).
In her time as a journalist, she won both local and national awards for her investigative reporting, feature writing, and editing work—although her first award dates back to the fourth grade, when she took home first place for her school's short-story Halloween writing contest, for a particularly gory piece titled The Crimson Carpet. She was delighted.
Christie's had the privilege of working with some of the biggest names in the biz, including Ta-Nehisi Coates, Christiane Amanpour, and David Remnick (fun fact: She once even edited Jill Abramson when she was still the executive editor of The New York Times).
Of the dozens of young writers she's mentored over the years, many have gone on to write for publications such as The Atlantic, The New Yorker, The Wall Street Journal, The Guardian, and The New York Times, and have landed book deals with major publishing houses (and she couldn't be prouder).
In 2019, Christie struck out on her own again and started her copywriting and creative consulting business, Christie Chisholm Creative. She especially loves working with entrepreneurs who are a few years into their businesses and ready to see what a professional copywriter and consultant can do for their growth, because the results are so damn fun to watch.
Christie lives in Greenpoint, Brooklyn, with the most majestic dog who ever roamed this earth and far too many plants.
Christie Chisholm is a writer and online business strategist who helps entrepreneurs turn pretty good copy into killer copy—and make the money to match.