I was going to send a different letter tonight. And then I stumbled across something I wrote several years ago, in the early spring of 2013. Nine months earlier, my mother had died, I had turned 30, and I had moved to New York for graduate school, in that order and over the span of two weeks. When I wrote this, those two weeks were still so close I felt I could reach my hand back and touch them. It is the kind of magical thinking that leads a person to contemplate parallel universes, otherworldly dimensions. You are ready to strike bargains with your perception of reality.
Now, nearly five years out, the bartering is over, my heels planted on this plane. And still, everything about this letter is true, as loud as the day I wrote it. I don't expect that will ever change.
O, morning, without warning, like a hole and I watch you go." —Joanna Newsom
I've been thinking about my mom. About her laugh. The way she threw back her head—once haloed by a curtain of thick, dark waves—and erupted. I'd glance at her two front teeth as she writhed in glee, and I'd remember when there used to be a gap wedged between them. She'd slap the table, or her thigh, or my forearm. She'd wiggle her hips, focus her sharp blue eyes on mine and smile as if to say, See? Life can be frivolous. I've been thinking about that.
I saw tulips on the Upper West Side last week. They'd cracked through the cold dirt to defy the dregs of winter, but it was as though someone had just set them there. They were perfect. Globular and frenzied and begging to be cut and thrown onto tables and windowsills. I saw them, the petals of purple and gold and red, and I thought, Mama. She was there in those flowers.
I thought of when she took me to the iris fields outside Boulder to go picking; how the berms she molded out of soil and marigolds snaked languidly like Chinese dragons; the conifer we planted in the yard when I was 10. I was only slightly taller than the tree, and she told me it would be mine and we would grow together. I marveled knowing one day it would reach high enough to block out the sun.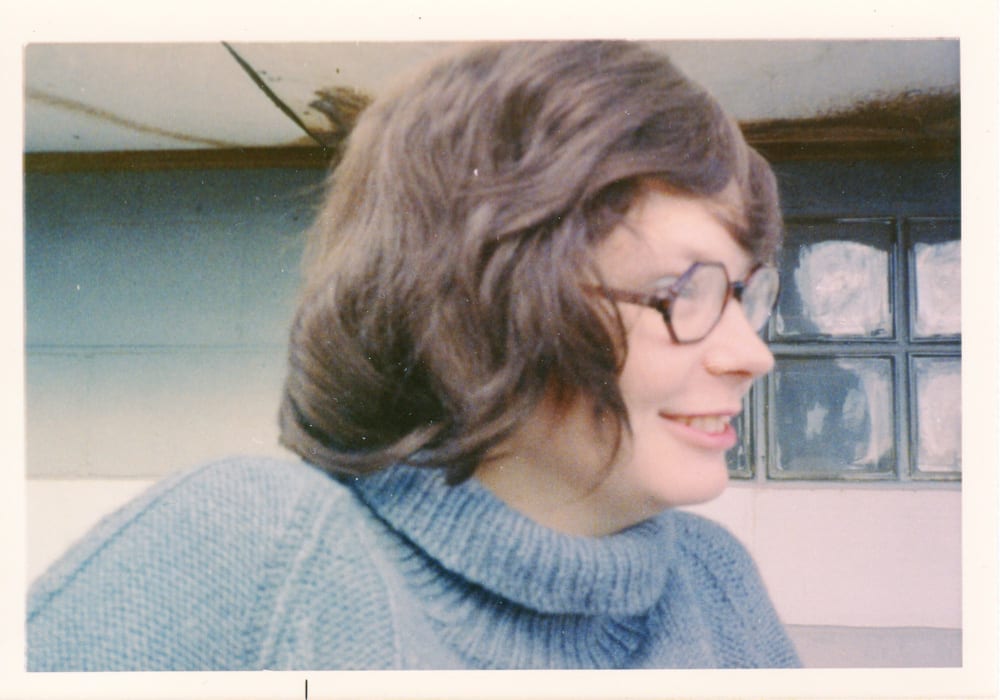 Mama, sometime in the years before I was born, almost certainly the '70s.
When my mom got sick and then more sick and more still, I wondered why. I pushed it away because it was a pain I couldn't understand, a severing so deep I couldn't look it in the eye or even glance at its shape. It was dark and tragic and cavernous and consuming.
And in those moments when the world's lights went out and all there was in front of me was fear and only fire inside and a slow, droning doubt that I would survive, all I wanted was to pause, quiet it, remove the brain that made me weak and weird and confused and replace it with a normal one.
I look out my window, and the lights from the Williamsburg Bridge float like neon pyramids. Freedom Tower is a throng of fireflies. I look out my window and know it is mine. I have a place here.
I want to show her the bits I've collected and smoothed clean. I want to hold them up and say, Look. I did it. I made this.
I forget sometimes that I love this city. It's easy to forget when your heart's still stinging and your place seems shaky and your brain fails to focus. When all the world's periphery turns to white noise.
I want to tell my mom about the bridge and the fireflies and the tulips. I want to show her the bits I've collected and smoothed clean. I want to hold them up and say, Look. I did it. I made this.
I want to tell her I'm terrified. Terrified of change and yet more terrified of none. Terrified of growing up. Terrified of staying too young. Terrified of money, of plans, of life becoming normal, of life staying strange.
She told me to never settle. She was frail then, but her voice was strong. She spoke of men, but I knew she meant everything. Don't settle. Don't wait. Do all the things.
Dancing. I want dancing. I want lipstick and full moons and windows open. I want music loud. I want to get naked. I want to swim and shake and cry and laugh and run and scream. I want to wail. I want to skip. I want to eat every damn piece of cake. I want to dig my fingers into clay. I want to be covered in paint. I want to scrape pictures onto sidewalks with chalk. I want thunderstorms. I want this life to be pulse and thrum and clamor.
I want to look at my mother and smile. Wiggle and laugh and slap my thigh. Reach for her hand, as if to say, See? Life can be frivolous.